It's Entirely Too Much Freaking Cannabis
Sonoma County doesn't need to become dependent on a drug that is bottoming out
Cannabis prices continue to drop as fall harvest season threatens further saturation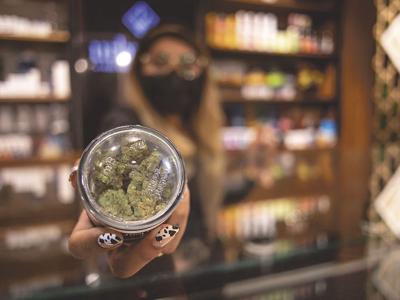 Joey Espinoza wears many hats in the local cannabis industry: He works with growers as a code compliance consultant and is a founder of advocacy agencies Monterey County NORML and the Coastal Growers Association. Lately, he has been too busy to record a new episode of his podcast, "$1 Pound Show."
"The name is provocative, but it was also an acknowledgment that, yes, eventually we expect cannabis to reach the level of a typical commodity and the price to fall significantly," Espinoza says.
Although still far from $1 per pound, the price for cannabis this summer dropped fast and far. Market reports for cannabis are elusive, but growers and advocates say product that went for $1,200 to $1,400 per pound at this time last year is now as low as $400 to $500 per pound.
A variety of factors play into this. The California market was already trending toward an oversaturation of growers, but the pandemic's boom in demand for cannabis offered temporary relief. Growing operations have continued to expand, but as a semblance of normalcy returns to daily life, the market is crashing back to reality.
Colin Disheroon, CEO of Santa Cruz Naturals, says the supply available right now is "probably two to three times what the state can consume." Espinoza says this is a problem for greenhouse growers as the summer is when they can take advantage of typically lower supply and turn the most profit. By October and November, outdoor cannabis harvests enter the fray and oversupply causes prices to drop.
Bob Roach, executive director of the Monterey County Cannabis Industry Association, says a market that is already oversupplied in the summer paints a grim picture for the fall.
"The big outdoor crop has not even been harvested yet, people are sitting on large inventories," Roach says.
Disheroon says oversupply pushes growers to send their product into the black market. The taxes levied on growers are based on canopy square footage, not how much they sell. "If a grower grows more than they can sell to the regulated market, [then] the cannabis has to get sold somewhere," he says. "So it goes out the back door without taxes, fees, etc. Reducing taxes and regulation fees is the only way to start to resolve this."
Joann Iwamoto, manager for Monterey County's cannabis program, says county officials are aware of the negative turn the market has taken and they are discussing ways to address the problem.
Christopher Neely covers a mixed beat that includes the environment, water politics, and Monterey County's Board of Supervisors. He began at the Weekly in 2021 after five years on the City Hall beat in Austin, TX.
https://www.montereycountyweekly.com/news/local_news/cannabis-prices-continue-to-drop-as-fall-harvest-season-threatens-further-saturation/article_11f22f92-0b69-11ec-8b9e-ab6e4ae97ef0.html?utm_source=Monterey+County+Weekly+Newsletter&utm_campaign=29a49de5a8-MCNOW_COPY_01&utm_medium=email&utm_term=0_73ff5a7fa1-29a49de5a8-425026213